Delivering Tobacco Cessation Through Community Health Workers
With funding from the Texas Department of State Health Services, Texas A&M University collaborative partners from the Department of Health and Kinesiology (HLKN) and the Center for Community Health Development's (CCHD) National Community Health Worker Training Center (NCHWTC) at the School of Public Health (SPH) developed a tobacco cessation training for CHWs.
Shelby Lautner, MS
Principal Investigator
In person: 2009 Online: 2016
Project Dates
South Texas
Communities Involved
Texas DSHS Tobacco Prevention & Control Branch and the Texas Comprehensive Cancer Control Program
Funders
Center for Community Health Development
Partners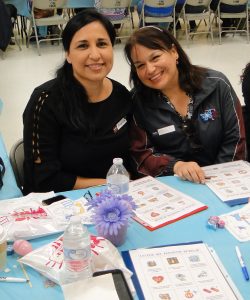 Project Summary & Goals
To develop the curriculum, the National Community Health Worker Training Center (NCHWTC) at TAMU used its typical curriculum development process. The process includes (1) assessing the need for community education in special health topics; (2) consulting with community members and community liaisons about existing knowledge and topics they are interested in learning about; (3) generating the curriculum content based on community input; (4) formatting the presentations and activities based on language, culture, and existing knowledge of the intended audiences; and (5) submitting the curriculum content and materials for accreditation as certified continuing education (CEU) training for CHWs. Goals included:
Prepare CHWs to educate their community members about tobacco prevalence
Educate on the health risks of tobacco use and traditional and emerging tobacco products
Understand benefits of quitting smoking
Utilize best practices for treating tobacco dependence
Distribute available resources for quitting smoking
Show the US Public Health Services' Ask-Revise-Refer model
Outcomes
The participatory approach to CHW curriculum development offered 2 primary lessons for future projects. First, engaging CHWs from the beginning stages of the project increased the likelihood that the final curriculum was culturally appropriate, effectively targeted, and relevant to the CHWs' training needs. Second, preparing curricula in a range of formats increased the potential reach of the training and its content. The adaptation of an existing, English-language curriculum for clinical providers produced a CHW curriculum available in 4 formats: face-to face in English and Spanish, and self-paced, online in English and Spanish. Having 2 delivery languages and channels met the needs of the CHW workforce as well as the communities they serve, all of which are in need of tobacco cessation education and outreach. The variety of options to access the training modules also makes it more likely that a larger number of CHWs will participate in the training. Based on the curriculum development experience for the tobacco cessation training, the project team believes that this process can be a model for supplementary CHW curriculum development projects on other important health topics. In addition, this holistic, inclusive curriculum development process could represent a model for other tobacco cessation projects struggling to reach and/or engage vulnerable populations. Involving representatives of the priority populations in the development of training responsive to their unique needs is sound practice.