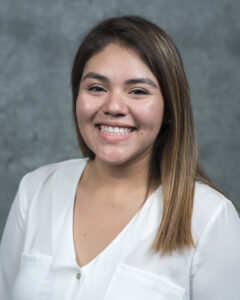 Brenda Gonzales, MPH, CHW, CHWI
Brenda has worked as Assistant Manager, Program Coordinator, and Graduate Research Assistant for Texas A&M University's National CHW Training Center for the past 3 years. This is where she developed knowledge of CHW/CHWIs, became certified as a CHWI, and appointed as the center's instructor for the online CHWI course. She holds a Bachelor of Science degree in Chemistry from The University of Texas Rio Grande Valley (UTRGV) and recently received her Master of Public Health degree in Environmental Health from Texas A&M University. She has served as a presenter at the American Public Health Association (APHA), a national conference, where she presented on tobacco cessation related to maternal health and also at the virtual Vision y Compromiso 2020 conference, where she presented on essential workers surviving a pandemic.
Brenda is passionate about physical wellness, which she transmits to her family and friends by encouraging them to incorporate movement into their daily lives.