Class Format
Our CHW/Promotor(a) certification course is an interactive course taught online.
Weekly Instruction
60 hours total of weekly instruction materials
Homework
40 hours of homework given
Hands-On Experience
60 hours of hands-on experience in the field
= 160 hours total for the course
Course Cost: $750.00
Course payment can be paid either through cash, check, or credit card to the Center Manager.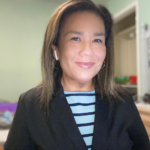 Course Instructor:
Paula Saldaña
"Taking the NCHWTC's CHW Course really taught me the skills of how to be a great CHW! I would recommend!"