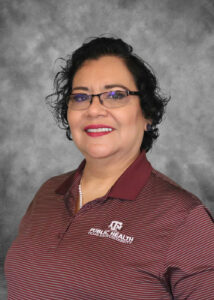 Dinorah Martinez, Dra., CHW, CHWI
Dinorah holds a General Medicine degree from an accredited university in Mexico with more than 30 years of experience as a physician. She currently works as a program coordinator and instructor of CHWs in Texas for the National CHW Training Center at Texas A&M School of Public Health, a role in which she has excelled for 10 years. She is also an Education Manager for the National Institute of Latinas for Reproductive Justice and has collaborated as a co-author in various public health work for the university.
Dinorah has also served as a host at different state and national conferences for CHWs, such as the first human rights hearing in Texas before UN specialists. Dinorah has extensive experience coaching, and in 2015 the Center for the Elimination of Disproportionality and Disparities awarded her the Texas Equity Award, a state recognition for her work in education with equity.