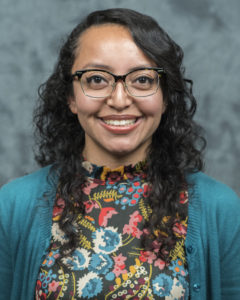 Jennifer Ramirez, MPH
Jenny has been working with the Center for Community Health Development (CCHD) for two years as a graduate research assistant. She holds a Bachelor of Science degree in Biology from the University of California, Los Angeles (UCLA) and recently obtained a Master of Public Health (MPH) degree with a concentration in Health Promotion and Community Health Sciences from Texas A&M University. She is continuing her studies and is now a first-year Doctor of Public Health (DrPH) student at Texas A&M. She has 3 years of experience working at a Health Plan in California and her current wok at CCHD entails collaborating with a team in East Texas to establish a Community Health Resource Center in Trinity County, TX.
In collaboration with the National CHW Training Center, she has been shadowing recent CHW trainings and is currently in training to be a Community Health Worker Instructor (CHWI) in order to assist with future trainings. She has also recently volunteered her time as a Texas A&M COVID-19 drive-through testing site.
Her interests include rural health and oral health, and she aims to develop a CHW training curriculum in the future pertaining to oral health as part of her dissertation work.
Have a question? Email us!
Jenny's CHW Spotlight
LinkedIn
Read Jennifer's Article Pages